We are a leading solar developer specializing in commercial and residential projects. Whether you are planning a 5kw system or a 500kw solar system, we design, manage, install and maintain your system to ensure you get the maximum output possible! Our affiliate can also provide you with geothermal, energy efficiency and irrigation services so you can achieve a Zero Carbon footprint! See our partner, Ecological Wizard at www.EcologicalWizard.com We are a Building Performance Institute (BPI) accredited company bpi.org.
When it comes to troubleshooting a solar system, our company has all skilled and experienced people plus the right tools and resources to get your system back on track, making you money and saving the planet. Whether you have a residential system down, or large commercial system offline, call us for a quick, cost-competitive solution.
* Our $199 special for inspection & tune-up provides up to one hour of labor and includes checking the connections in the inverters to prevent arcing. Not having an annual inspection and tune-up could void your manufacturer's inverter warranty.
This nine-year old 250kw system was not operating and the original installer was out of business. The owner called us, and we troublshot their inverter and replaced internal coponents – contactors, resisters and fuses. It now performs beautifully, delivering on its investment.  To keep your investment producing what you expect, we offer annual mainatenance agreements that include inspections, preventative measures and timely repairs. We also offer SREC management to further keep an eye on your investment while providing a great return as well.
Renewable Energy Will Sustain Our Planet
If we choose wisely we can exapand the limits of our time and resources on this planet. Choose clean, renewable energy and energy efficiency.
Our company has been at the forefront in New Jersey, building the first solar energy systems in many counties, achieving the first carbon-negative homes utilizing solar, geothermal and energy efficiency. We understand the importance of these systems, how to install, diagnose, prioritize and get the job done, so your children will have hope for a clean, sustainable future. The future is now!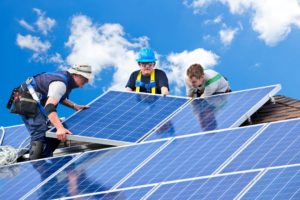 Call us for a free consultation 732-681-5296
Whether you are planning a home solar system, need a large commercial system repaired or want to know how to eliminate your electric bill, give us a call today.